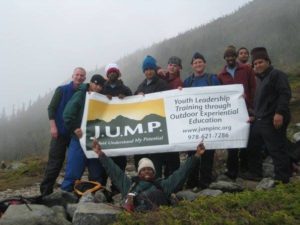 "We teach hiking and backpacking as what we call "cooperative sports." We cultivate fitness, skills, commitment, teamwork, toughness, just as those who coach competitive sports do. But mountain travel is not a game. The object is not to defeat some opponent, but to travel securely and skillfully in a demanding environment. The rewards are overwhelming: adventure, growth, great memories, the joy of high places."
–Bill Spacciapoli, founder and director of J.U.M.P.
Jonas Angus – Chairman, Board of Directors
Jonas Angus, P. Eng., is a world renowned Thermoplastic Elastomer (TPE) veteran with over 35 years' experience, and the founder and President/CEO of TPE Solutions, Inc., Shirley, MA. Jonas was born in Accra, Ghana, and immigrated to North America on his own when he was 19. He graduated from the University of New Brunswick, Fredericton, N.B., Canada in 1982 with a B.S. in Mechanical Engineering, with a specialization in Fluid Mechanics and Material Science. In 2000 Jonas co-founded Thermoplastic Rubber Systems, Inc., Shirley, MA. In 2008, he co-founded PolyPrime, Inc. in Grand Prairie, Texas, for the manufacture of Thermoplastic Vulcanizates and other Thermoplastic compounds products.
Jonas is currently coaching new entrepreneurs by creating various joint ventures in the thermoplastic compounding marketplace. He has served as Chairman of the Board of Directors of J.U.M.P. since its inception in 2007.
Bob Chauvin – Board of Directors
Bob holds a Bachelor's degree in accounting from the University of Connecticut and an MBA from Anna Maria College, Paxton, MA. He is the former president of Tyco SimplexGrinnell and remains actively involved with Tyco, continuing to support the business on a consulting basis. As a senior executive who has enjoyed a long and distinguished 35-year career in the fire protection and life safety industry, Bob retired in 2015 from his role as President of Tyco and now serves as Vice Chair of the Board of Trustees of Heywood Hospital, Gardner, MA. He is a member of the Board of Directors of the United Way of North Central Massachusetts, and the Advisory Cabinet of the University of Connecticut School of Business. Bob spearheaded Tyco SimplexGrinnell's support for expanding the United Way Youth Venture program throughout the United States.
Bob has been a member of the Board of Directors of J.U.M.P. since early 2017.
Mike Mazeika – Board of Directors
Mike Mazeika was one of the original members of J.U.M.P.'s Board of Directors.
Greg Schnipke – Board of Directors
Greg Schnipke has been a member of J.U.M.P.'s Board of Directors since 2010.
Stan Swearingen – Board of Directors
Stan Swearingen has been a member of J.U.M.P.'s Board of Director since 2016.
Bill Spacciapoli – Founder, Executive Director, Board of Directors
Bill is the Founder and Executive Director of J.U.M.P. He earned a B.S degree in Mechanical Engineering, with distinction, from Worcester Polytechnic Institute and an M.S. in Engineering from Virginia Tech. Bill is a former EMT-B with the Harvard Ambulance Service, and is certified in Wilderness First Aid through SOLO. He currently works in Business Development at OPCO Laboratory, Fitchburg, MA.
Bill has hiked all 48 of the New Hampshire 4,000 Footers, also known as the NH48. As the founder of J.U.M.P., Bill brings his passion and 30-plus years of work-life experience to youth development, with the belief that we need to free the untapped potential of today's youth.
Allan Kuong
Allan Kuong, D.O., is an emergency physician, paramedic and U.S. Navy (Ret.) Commander, Medical Corps. He received his B.S. from the U.S. Naval Academy, and his D.O. from the New England College of Osteopathic Medicine. He was an Eagle Scout and is an amateur radio operator. His interests include emergency medicine, hiking and sailing. Allan has been involved with J.U.M.P. as an adult leader since 2012.
Barbara Hantz
Barbara is the former Administrative Director of Boston's Community Medical Group, dba Commonwealth Community Care, where she managed the operations of a nationally pioneering medical practice dedicated to patient-centered care of individuals with disabilities. She graduated Magna Cum Laude with a B.A. degree in French with secondary school certification from SUNY Potsdam, and completed the Human Resources Management Certificate Program from Bentley College in Waltham, MA.
Since 2010, Barbara has traveled to Haiti to provide logistical and administrative support to Commonwealth Community Care clinicians who deliver trainings on Behavioral Health and disability related topics to the staff of St. Boniface Hospital in rural Haiti. Other current volunteer activities include providing administrative support and serving on the Board of Advisors to J.U.M.P. since 2013, and volunteering with Loaves and Fishes Food Pantry in Devens, MA. Barbara is conversational in French and Spanish and is interested in health care policy and disability issues.
Fernando Catalina, M.D. – Medical Consultant
Fernando Catalina, M.D., Ph.D. is a pediatric physician with Medical Associates Pediatrics, P.C., and Worcester Medical Center /Saint Vincent Hospital Department of Pediatrics. Dr. Catalina completed his residency training with the Department of Pediatrics, University of Massachusetts Medical Center, Worcester. He earned his M.D. and Ph.D. degrees from the University of Texas Southwestern Medical School, Dallas. He is currently an assistant professor in the Department of Pediatrics, University of Massachusetts Medical School.
Dr. Catalina is currently a member of the Board of Directors of the Boys and Girls Club of Fitchburg and Leominster, and serves as J.U.M.P.'s official medical advisor. He was named Community Physician of the Year by the North Worcester County Chapter of the Massachusetts Medical Society in 2013. Fluent in Spanish, Dr. Catalina received a Hispanic Heritage Award in 2002.
Jon Blodgett
Jon has worked with teens for the past thirteen years, and is currently a member of the executive staff at the Boys & Girls Club of Fitchburg and Leominster, in the position of Teen Center Director. He graduated from Mount Wachusett Community College with an Associates Degree in Human Services, and is certified as an Outdoor Leader by the Appalachian Mountain Club's Youth Opportunities Program. Jon is also certified in Advanced Wilderness First Aid, through SOLO.
Jon is an outdoor enthusiast who enjoys hiking, backpacking, camping, and kayaking. He has co-led many of J.U.M.P.'s mountain excursions over the past seven years. Jon is also involved in the award-winning robotics program at the Boys & Girls Club of Fitchburg and Leominster.
Kenneth Cole
Ken is currently employed as an Electrical Engineer, Assistant Group Leader with MIT Lincoln Laboratory, and is a Call Firefighter/EMT-B with the Carlisle Fire Department. He received a B.S. degree in Electrical Engineering from the University of Connecticut in 2002 and an M.S. in Electrical Engineering from Northeastern University in 2006. Ken's credentials include: Firefighter I/II, Hazmat Operations Level Responder, EMT-Basic, and CPR. He has volunteered for FIRST Robotics since 2008 as a team mentor/coach and as a regular volunteer for FIRST Technology Challenge tournaments in Massachusetts.
Ken has been involved with J.U.M.P. as a hike leader since 2012. He enjoys bicycling, running, swimming, hiking, paddle boarding, and cross-country skiing. Ken bicycles to work through most of the year.
Madeline Beckman
Maddie graduated in 2015 from The Bromfield School in Harvard, MA, and is currently a student at the University of Connecticut (pre-med, graduating in 2019). Maddie is an EMT-B for the Harvard Ambulance Service and holds the following certifications: NREMT EMT-Basic; BLS Health Care Provider CPR; AMC Youth Opportunity Program Outdoor Leadership; Advanced Wilderness First Aid (through SOLO).
Maddie first became involved with J.U.M.P. in 2013, as a senior service community project to co-lead hikes and create a medical kit inventory. She continues to co-leads hikes when back from school. Interests include reading, environmental sustainability, and health care. She is conversational in Spanish. Maddie conducts research in both cancer and public health.
Michael Lecky
Michael received a B.A. degree in English, Magna Cum Laude, from Drake University, Des Moines, Iowa, and did post graduate study in Anglo-Irish literature at University College Dublin. Michael was most recently a member of the Marketing Communications department of PRTM, a management consulting subsidiary of Price Waterhouse Coopers, and has copyedited several published works, ranging from business to academic publications.
Michael is a former EMT-B, and has been venturing into the mountains since 1962. He went on to complete technical rock and ice routes from California to New Hampshire to Scotland. He has been involved with J.U.M.P. since 2010 as program developer, hike leader and creator of J.U.M.P.'s Compass Rose curriculum.
Penny Dickson
Penny is the founder and Outdoor Leader of Women's Wilderness Retreats, and a sales guide at Eastern Mountain Sports. She was educated at Colby Sawyer College and Harvard Graduate School of Design. Penny is certified in Advanced Wilderness First Aid, Leave No Trace, Horticulturalist, and AMC Youth Opportunity Program five-day Backpacking Training. Penny is also a hike leader for the AMC Worcester Chapter.
Penny has been involved with J.U.M.P. since 2014 as a girls' trip leader. She has maintained a Yoga practice for twenty years and brings experience in facilitating women's groups in psycho-spiritual healing work, self-healing techniques, nutrition, and women's wellness. Penny's interests include Wilderness Therapies and Rites of Passage, hiking, backpacking, biking, skiing, gardening, and facilitating girls' personal growth through boosting confidence, self-awareness and self-esteem through transformational wilderness experiences.
Peter Ferguson
Peter is a fourth grade teacher in the town of Bedford, MA. Prior to his teaching career, Peter oversaw the development of medical and life science devices. He holds a B.S. in Business Administration, a Post Bac. Teacher Licensure in Elementary Education, and is currently pursuing a Master's degree in Special Education.
Peter has been involved with J.U.M.P. since 2009 as a hike leader. He is an outdoor enthusiast, avid hiker, backpacker and rock climber, and has participated in various Appalachian Mountain Club/Youth Opportunity Program trainings, including backpacking and canoeing. He enjoys running, biking, skiing, hiking, reading, learning, and sharing his love of the outdoors.
Rick Szmauz – IT Consultant
Rick graduated from Stevens Institute of Technology with a Bachelor's Degree in Engineering, and earned a Master's Degree in Computer Engineering from the University of Massachusetts. He has worked for over 30 years in the computer networking industry and was a co-founder of Top Layer Networks Inc., an internet security company recently acquired by Corero Networks, LLC. Rick is currently a Staff Engineer, GPU Development, at Qualcomm, Inc.
Rick served as a volunteer EMT on the Souhegan Valley Ambulance Service, New Ipswich, N.H. for seven years. He is a licensed amateur radio operator (KB1-ZSE:GPS/APRS) and is interested in GPS- based hike tracking. Rick has provided IT consulting and related network and computer services to J.U.M.P. since 2013.
Stephanie DiRocco – Nutritional Consultant
Stephanie DiRocco, MS, RD, LDN, is currently the Clinical Nutrition Manager for HealthAlliance Hospital in Leominster, MA, and has over 15 years of experience in nutrition and dietetics. She has worked at various Boston area hospitals and has a passion for teaching others about nutrition, diabetes and wellness. Stephanie graduated from Boston University with a B.S. in Biology, followed by an M.S. in Nutrition and Dietetics and a Certificate in Sports Nutrition from Simmons College.
Since 2013, Stephanie has served as J.U.M.P.'s consulting nutritionist, providing recommendations for healthy and sustainable meals and snacks while hiking. She is passionate about the outdoors, has been an avid soccer player, has run several marathons, and enjoys hiking, biking and passing on her knowledge of gardening to her husband, children and community.
Sydney Durand
Sydney is currently Special Projects Manager for The Phoenix (formerly Phoenix Multisport), a nonprofit organization in Boston that promotes addiction recovery through involvement in sports. Her roles include grant writing/management and program expansion strategy. Sydney was educated at the University of Vermont (UVM) and holds a B.S. in Community and International Development, with a minor in Spanish. She is a former EMT-B with the Harvard Ambulance Service.
Sydney competed at UVM in Division 1 cross country and track, and currently competes with the Battle Road Track Club, in Boston. She loves being part of a team, meeting new people in the running community, and pursuing opportunities to get out into nature. In recent years, Sydney has become increasingly interested in public health issues, specifically in the addiction and recovery field. She has been involved with J.U.M.P. for six years as a volunteer hike leader.
Tonia "Toni" Spacciapoli
Toni is a licensed school psychologist with the Commonwealth of Massachusetts, and worked as a school psychologist for 18 years, primarily with the Wachusett Regional School District. She received her B.A. from the College of the Holy Cross, an M.A. from Fairfield University, and a Certificate of Advanced Graduate Studies from Tufts University. Toni is credentialed by the National Association of School Psychologists. As an experienced Special Education professional and Behavior Specialist, she brings skills and knowledge of Social Emotional Learning and Educational Assessment to J.U.M.P.'s team.
Toni has been involved with J.U.M.P. since its inception, when she co-led hikes for teenage girls. Her interests include cooking, gardening, hiking, and traveling.