Program Information
General Information
For the most part, our training destinations are facilities operated by the Appalachian Mountain Club in New Hampshire's White Mountains. Transportation to and from the destination is provided. Clothing, equipment and all meals are also provided.
Groups
Group size is a maximum of 8 participants and 2 instructors. Trips may be single gender or co-ed, depending upon the preferences of participants and their parents. J.U.M.P. also offers single gender trips to ensure that participants don't fall into 'traditional' roles during the trip. Co-ed trips will include 1 male instructor and 1 female instructor.
Participants are grouped by age. Age groups are Middle School (entering grades 6-8) and High School (entering grades 9-12). Depending on the trip and the participants involved, the age/grade range may narrow further. High school graduates and college-age participants are tracked into technical (trail building, high adventure) or youth leadership roles.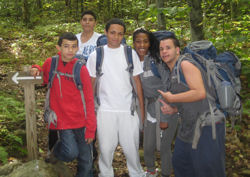 Leader of the Day
J.U.M.P. uses a Leader of the Day (LOTD) model for teaching leadership. Instructors will select 2 participants at a time to lead a hike segment. The instructors will outline the overall plan for the day, and then ask questions to start the thinking and problem solving process.
Short of health and safety issues that require the instructors to step in, the leaders make all decisions and lead their segment of the hike. Instructors follow the group up the trail. In a 3-day trip, each participant should get at least 2 opportunities to be a leader.
Disabilities
Every attempt will be made to include individuals with chronic illnesses or disabilities. We are currently designing a training program for our instructors that will permit us to safely include diabetic participants on our trips. Please contact us regarding your special situation.