J.U.M.P. inspires young people to realize their full potential through mentorship and a variety of outdoor adventures that provide life lessons, personal insights, and confidence which serve as a foundation for taking on leadership roles in the community.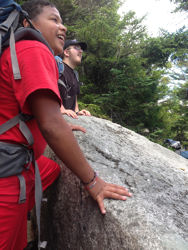 J.U.M.P. (Just Understand My Potential) is a 501 (c) (3) educational nonprofit that introduces young people to the mountains of New England. All participants receive extensive mountain-skills training, hiking and backpacking experiences, and mentoring and educational support, helping them to achieve and expect more. Fun is always an option.
Our leadership is comprised of adults who love the mountains. We work in a wide variety of professions. Most of us are parents. We happen to have a particular strength in emergency medicine and emergency medical technology. Our leaders include highly experienced backpackers and mountaineers, whose outdoor learning in some cases began in the 1960s. We're a mature organization, let's put it that way.
We teach a comprehensive curriculum that we call the Compass Rose. Its goal is what we call "full-contact backpacking." That means walking into the mountains for a few days, living off the contents of your pack, and then walking out in good order and with a sense of pride and fulfillment.